Media / Awards
March 7, 2021 
February 26, 2021 - Feddersen USA Wagyu donates ground beef to Woodbury County Sheriff's Foundation:
Woodbury County Sheriff's Foundation selling donated Wagyu beef | SiouxlandProud | Sioux City, IA | News, Weather, and Sports
January 7, 2021 - the Iowa Farm Bureau Spokesman included Feddersen USA Wagyu in this issue:
Iowa Wagyu beef producer wins big (iowafarmbureau.com) 
January 2021 - the High Plains Journal included Feddersen USA Wagyu in their special livestock feature:
(December 3, 2020) Feddersen USA Wagyu was featured in a "Siouxland Stories" segment on KCAU channel 9:
Siouxland Stories: Siouxland farm produces award-winning Wagyu beef | SiouxlandProud | Sioux City, IA | News, Weather, and Sports
 Northwest Iowa Wagyu Beef Producer Earns Triple Crown Steak Challenge Honors
Contact:  Brad Feddersen, 712-870-4030, feddersenusawagyu@gmail.com
ANTHON, Iowa –Nov. 19, 2020—What makes a superior steak? Feddersen USA Wagyu is raising the bar with its big wins in the national Triple Crown Steak Challenge, including the Reserve Grand Champion title.                                                                                                                                                                     
Feddersen USA Wagyu of Anthon earned top honors in mid-November for producing beef with superior flavor, tenderness and health benefits.
"Our goal is to produce the best-tasting, 100% Wagyu beef," said Brad Feddersen, who has raised Wagyu cattle with his family since 1997. "We look at every little detail that can have an impact on our cattle's well-being and performance. The Triple Crown Steak Challenge results verify that all the long hours, hard work, efforts to maintain a healthy environment for the cattle pay off in exceptional meat quality."
The Feddersen family has been building their herd of full-blooded Wagyu cattle since 2017. Their plans to sell hormone-free, antibiotic-free beef directly to consumers and chefs accelerated after the COVID-19 pandemic disrupted the food-supply chain.
The family keeps their cattle on feed for two years, significantly longer than traditional cattle production, to produce extraordinary marbling. In the hierarchy of beef, Wagyu's superior marbling makes it exceptionally tender, savory, flavorful, juicy beef.
The Triple Crown Steak Challenge goes beyond taste assessments to measure precise, objective scientific valuations of meat quality. This helps consumers know exactly what they're buying. "The most distinguished people in the meat industry judge this beef," says Desiree (Desi) Cicale, a director with the American Wagyu Beef Association. "All these tests eliminate the guesswork of determining beef quality."
Feddersen USA Wagyu took top honors in the "Warner Bratzler Shear Force for Tenderness—Fullblood" category (which measures meat tenderness) and the "Fatty Acid Profile for Health Benefits--Fullblood" category, which analyzes the beef's palatability and health benefits. Feddersen USA Wagyu also scored high in the "Total Lipid Panel Fullblood" category, which reveals how much marbling is in the meat.
"Exceptional marbling looks like a blizzard on an ultrasound," Cicale said. "Fine grains of marbling elevate the taste sensation of the beef and lend a buttery flavor to the meat."

Feddersen USA Wagyu also ranked high in the "Japanese Carcass Camera—Fullblood" category. The high-tech Japanese carcass camera test allows meat to be graded on the Japanese system, which involves quality grades above prime. "Wagyu takes beef to a whole new level," said Feddersen's wife, Shawna. "Is it more expensive? Yes. Is it worth it? Yes. This product is special.  It starts with the genetics and continues with the special care the animals receive while on our farm. If you enjoy food, and especially beef, our Wagyu products can heighten your dining experience. Whether it's a steak for your anniversary or ground beef for your favorite comfort food recipe.  I think we all can appreciate simple joys and experiences like having an exceptional meal, especially in these times."
Online shopping makes the farm-to-fork connection
The Feddersens ship their Wagyu beef to buyers across the United States. Nathanael Koch, a customer from the Denver, Colorado, area, says the beef is unlike anything available at the grocery store.
"It brings the steakhouse experience right to your home, so you can share it with your family and friends. I appreciate the fact that the Feddersens are entrepreneurs who sell directly to consumers. It's rewarding to know this beef comes from a family who takes good care of their cattle, their farm and their community."
Brad Feddersen encourages customers to visit his family's feedlot in the hills of Woodbury County to learn more about where their food comes from.
"It's an honor to share what all our hard work has created—the best-tasting, fullblood Wagyu in the country," he said. "I hope Feddersen USA Wagyu will help bring people together and make great memories for a lifetime."
To learn more about Feddersen USA Wagyu, visit https://ilovewagyu.com/.
(August 10, 2020) Feddersen USA Wagyu was featured in the story "Wagyu cattle farmers in Anthon, Iowa, turn to online sales as COVID-19 closes restaurants."
https://siouxcityjournal.com/news/local/wagyu-cattle-farmers-in-anthon-iowa-turn-to-online-sales-as-covid-19-closes-restaurants/article_ae05639e-8b4f-5a4c-8485-9e7badef3d13.html#tracking-source=home-top-story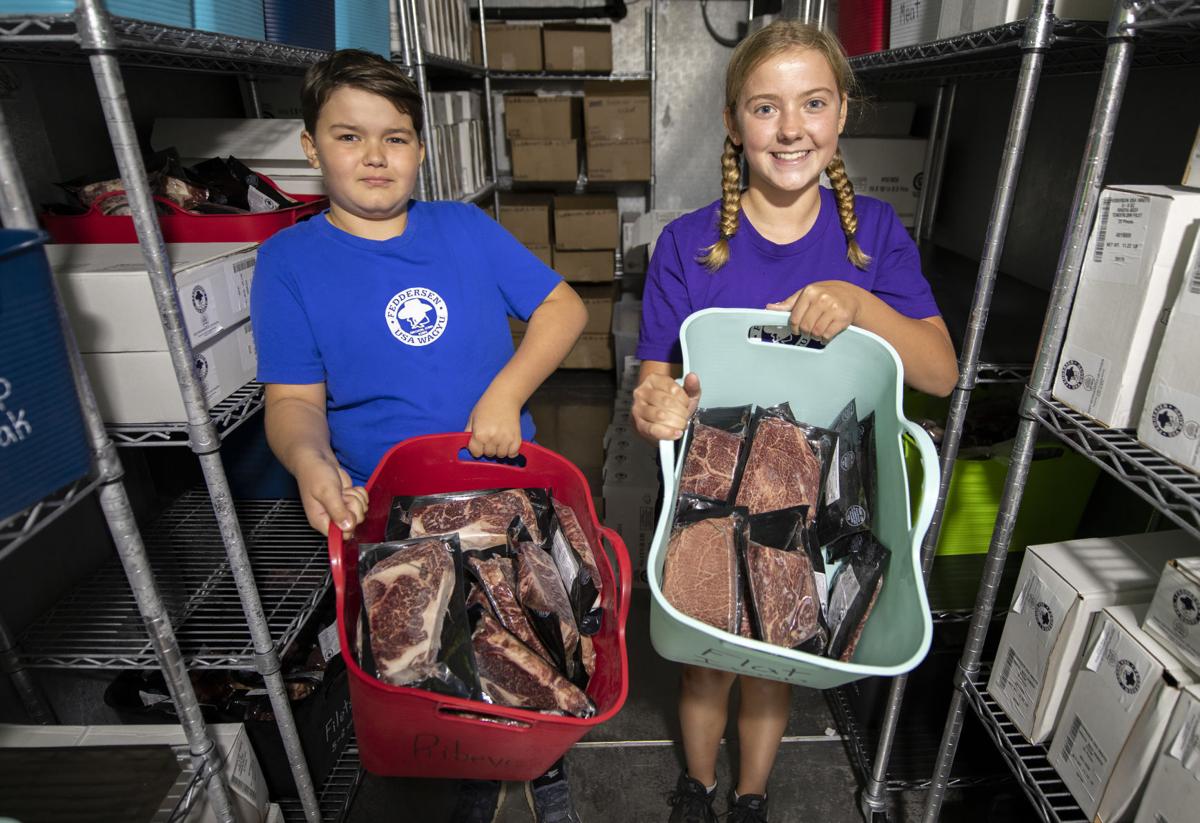 (June 18, 2020) Feddersen USA Wagyu was featured on KMEG14/Fox 44's "Hometown Farmer," where we discussed how the COVID-19 pandemic lead us to sell our Wagyu beef online.
Feddersen USA Wagyu placed in the top 5 in three categories at the 2019 Triple Crown Great Steak Challenge (Fullblood category.)
Ribeye area (#2)
Fineness of Marbling (#5)
Fatty Acid Profile & Melting Point of Fat, Healthybeef (#5)
Feddersen USA Wagyu was featured in a live stream by Welcome Home Beef on May 15, 2020.  We are so excited to be working with such a great company! (Video starts at the 12:30 mark.)
Iowa Farm Bureau Spokesman (March 20, 2019)
KMEG 14/Fox 44 Proud To Be A Hometown Farmer (February 7, 2019)